2022 Annual Conference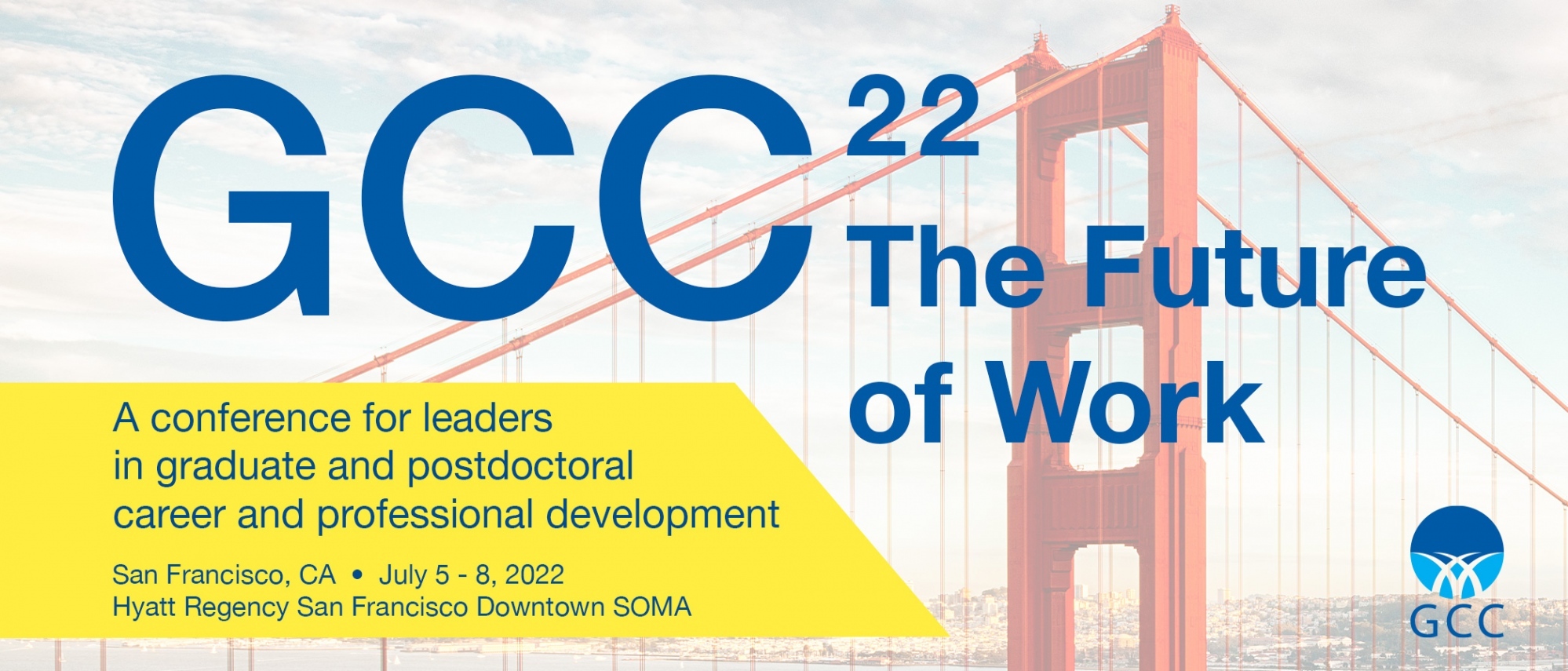 About the Conference
The GCC Annual Conference is an important opportunity for members to connect and share new ideas, learn best practices, and offer mutual support. With a theme of The Future of Work, this year's conference is focused on fostering collaboration to navigate changes to the world of work, both for ourselves and those we support.
Reflecting some of those changes, and in an effort to make the conference experience accessible to more members this year, the GCC Annual Conference will happen in two parts: an online conference on June 24 followed by an in-person conference on July 5-8.
We welcome and encourage attendance at both the online and in-person components of the annual conference, which will feature different content.

If you have questions about the conference, please email info@gradcareerconsortium.org

More about:
In-Person Conference
Online Conference
In-Person Conference
July 5-8, 2022
Hyatt Regency San Francisco Downtown SOMA
San Francisco, California
See the in-person conference program here.
| Registration | Cost |
| --- | --- |
| Early Registration (through 2/25) | $795 |
| Regular Registration (through 7/5) | $875 |
| Onsite Registration (from 7/6) | $950 |
| Online Conference Registration | Free with in-person registration |
| Sponsor/Vendor | Details here |

Hotel rooms will be $205/night. Registration includes multiple receptions and meals.
The GCC is committed to making the annual conference a safe and enjoyable experience for all attendees. Before registering, please review the Covid-19 Policy for the GCC Annual Conference.
Registration for the in-person conference is open only to GCC members, nonmembers who are presenting sessions with GCC members, and conference sponsors. If you have questions about registration, email info@gradcareerconsortium.org.
Register for the in-person conference here.

Scholarship Program:
Recognizing that many of our colleagues are experiencing budgetary restrictions and that systemic inequities across higher education contribute to differential access to resources, the GCC is offering a limited number of $500 scholarships to support the partial cost of in-person conference attendance. Apply for a scholarship here. The deadline to apply is April 25. Applicants will be notified during the week of May 2.
New Content
Online Conference
June 24, 2022 (with a virtual networking reception on June 23)
See the online conference agenda here.
In addition to the packed day on June 24, GCC members who attend the online conference will have access to the Whova conference app through the end of the in-person conference, allowing them to connect with fellow members, see job postings, and ask questions via the Whova message boards.
| Member Type | Free |
| --- | --- |
| GCC Member | $100 |
| Nonmember | $300 |
| In-Person Conference Attendee | Free |

Attendance at the online conference is included in registration for the in-person conference. If you are registering for the in-person conference, you do not need to register separately for the online conference.
For the first time, GCC is opening virtual conference registration to nonmembers. If you want to learn more about the Graduate Career Consortium, connect with GCC members, and see what our community is all about, take advantage of this special opportunity.
Register for the online conference here.

If you have questions about registration, email info@gradcareerconsortium.org.
Pre- and Post-Conference Workshops
There will be options for virtual pre- and post-conference workshops for new professionals and for midcareer professionals.
Pre-Conference Workshop for New Professionals: This full-day workshop is designed for conference registrants who are new to career development or to working specifically with graduate students or postdoctoral scholars. Participants will learn about best practices for the field, hear perspectives from experienced members, and build a community together. In past years, attendees have reported that this workshop helped them meet new colleagues, situate themselves in the field, and feel ready to build their career going forward. This workshop will take place online on Wednesday, June 29. It will cost $100 as an add-on to either in-person or online registration.
Post-Conference Workshop for Midcareer Professionals: This half-day workshop, titled "Next Steps in Your Career Path", is designed for GCC members with experience in the field. Learn from leaders in our field as they have progressed in their careers. Leadership, management, and administrative topics include: building strong teams, combating burnout, cultivating followership, strategic planning and communications, and internal and external partnerships. Participants will leave with a toolkit of knowledge and skills to plan their career paths and flourish in their professional lives. It will take place during the afternoon of Thursday, July 21. It will cost $100 as an add-on to either in-person or online registration.