Inclusive Programming Resource Guide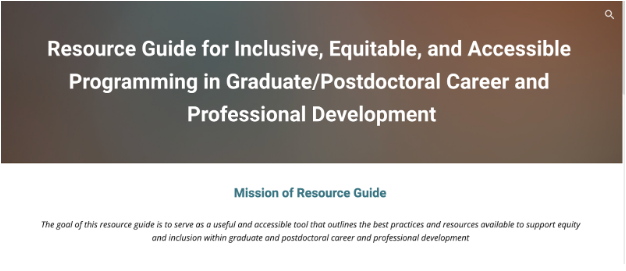 Resource Guide for Inclusive, Equitable, and Accessible Programming
The GCC Resource Guide for Inclusive, Equitable, and Accessible Programming in Graduate/Postdoctoral Career and Professional Development is a toolkit designed to support equity and inclusion in the design and implementation of programming in our field. It offers a guide to general best practices, as well as specific considerations for working with disabled, first-generation and low income, international, LGBTQIA, and BIPOC students and postdocs.
Practitioners in the field are encouraged to approach the guide–and efforts to develop inclusive and accessible programming–with intentionality, patience, and commitment. Read more about how to use the resource guide in the guide's introduction.
The resource guide was developed by the
GCC
Diversity Committee:
Estely
Carranza, University of California, Davis; Stephanie
Eberle
, Stanford University; Blessing
Enekwe
, University of Maryland, College Park; Devin Horton, University of California, Davis;
Sudha
Krishnamurthy
, Gladstone Institutes and University of California, San Francisco; Steve Lee, Stanford University; Arica
Lubin
, University of California, Santa Barbara; Sonya
Newlyn
, University of California, Santa Cruz; Laura
Schram
, University of Michigan; Brandy
Simula
, Georgia Tech;
Shoba
Subramanian
, University of Michigan Medical School.